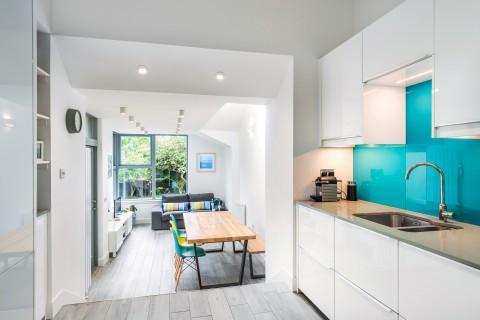 Braidburn Terrace, Morningside
The kitchen of this Edwardian terraced house was originally in the small north-facing brick outshot, with the dining room tucked away in the rear room behind the outshot. As with so many properties of this age, the house was orientated with the main living spaces looking towards the front of the house, turning its back to the garden. Now with two young boys the family needed more space, so the aim was to create a big family kitchen/dining room with direct access and views to the back garden.
The planning department insisted that the pattern of hipped roofed outshots at the back of this row of terraces was maintained, so a new zinc-roofed extension was wrapped round the original roof form. The slate on the west-facing pitch of this roof was replaced with a large roof light, scooping light and afternoon sun into the extension. Light bounces off the white wall below, maximising the benefits of the top light. The varied ceiling shapes created also help to zone the dining and sitting areas in the extension.
The new kitchen was moved to the original dining room in the main house and is fitted out in with gloss white Ikea units. The clients' choice of bold turquoise glass splash-backs avoids the space being too stark against the backdrop of white walls.