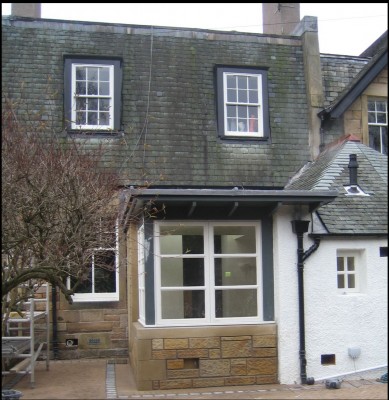 Cluny Place, Morningside
Cluny Place is an Arts and Crafts terrace with half timber front elevations.  At the rear there is a row of hipped single storey outshots, half of which belongs to each terraced house.
The brief was to form a garden room at the rear incorporating the outshot, as the Planning Department indicated that this was important to keep. The proposal uses traditional building materials but in a modern way, so that the original form is distinct from the new.
Building across the original kitchen window meant that it was important to introduce new roof glazing at the rear of the extension, giving light back into the kitchen. The client is delighted that she can still see her favourite tree from the kitchen looking through the roof lights.
Materials were chosen to be as natural as possible.  The walls are constructed of timber frame, insulated with wood fibre boards and finished externally with natural sandstone. This construction is vapour permeable, and avoids the need for plastic membranes in the wall build up, leading to a much healthier internal environment.
A wall of storage was formed in the garden room with v lined timber boarding, housing a washing machine, desk space, freezer and much needed storage. A new kitchen was fitted and new shutters were introduced upstairs.