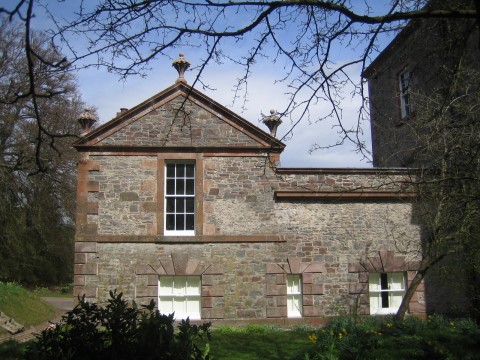 Country House, Borders
This A listed country house is composed of a main 17th century house with symmetrical flanking pavilions, linked to the house by stone screen walls.  The owners wanted to glaze over the courtyard space between the house and the west pavilion, and to upgrade the pavilion to provide an estate office on the upper floor and a formal dining room and kitchen for estate events on the lower floor.
In order to retain the house's symmetry it was essential that the new courtyard roof was completely hidden behind the screen wall. A crisp modern glass roof and simple oak stair with glass balustrade were inserted into the gap, deliberately contrasting with the old red sandstone walls. The new rooms in the pavilion were fitted out in a traditional manner to emphasise this contrast further.  Sash and case windows from the dining room look out to the courtyard, now an ambiguously inside space. Salvaged materials such as stone flags and panelled doors were reincorporated into the new work.  A new cloakroom was formed in the basement of the house, in traditional timber lining.