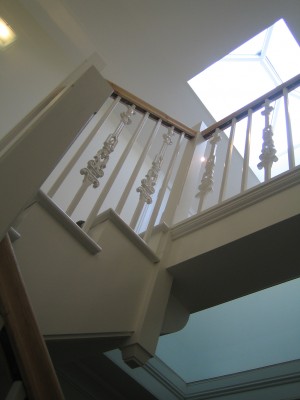 Craiglea Drive, Morningside
Craiglea Drive is a typical elegant, late Victorian mid terraced villa.
The owners wanted to convert the under used attic to form an additional bedroom and shower room, but without losing the feeling of grandeur and light of the original stair.  A new stair was formed over the existing one, with a glass landing to allow light to flood down through the middle of the house as before.
The character of the original stair with its ornate cast iron balustrade was continued, alternating new decorative and plain cast iron balustrade balusters, to tie in with the original.