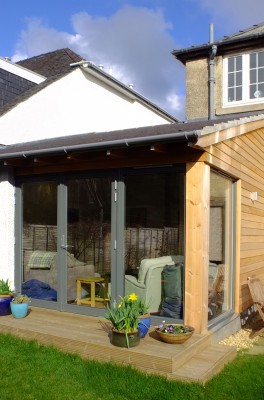 Plewlands Avenue, Morningside
Plewlands Avenue is an unusual street of terraced 1920s houses with compact plans and some Arts and Crafts influences.  The original ground floor layout  had  a very small galley-style kitchen and separate dining room at the rear of the house.  A previous owner had added a garden room to make the most of the large south-facing garden and provide more living space, but this had been poorly built and insulated and its flat roof was now leaking.
The brief was to re-plan the layout of these rooms to create a spacious open plan kitchen/dining/living space for the family.
A large kitchen/dining room was achieved by removing the wall between the existing kitchen and dining room, with the kitchen work surfaces laid out in an L shape along the back walls of the room, leaving space for a large dining table. A red Aga that the client had in storage now sits in the old fireplace giving a splash of colour and warmth to the room.
The existing garden room was taken down, and a new larger sunny living room with pitched roof built, wrapping round the corner of the house.  The original window and door openings were incorporated, minus their glass, so the kitchen/dining and living areas flow together creating a feeling of space with glimpsed views through from one room to the other, while retaining a degree of separation.  The living room ceiling is open up to the pitched roof at its greatest height, adding to the sense of light and airiness.
The external walls of the extension are clad in natural cedar boarding, which will weather to a silvery grey over time.  The timber finish was chosen to break up the rear elevation in a warmer material  than harl, and reduce the scale of the lean-to roof. A big double glazed floor-to-ceiling screen wraps round the corner of the extension to catch the sun and 'connect' the garden and sitting room.