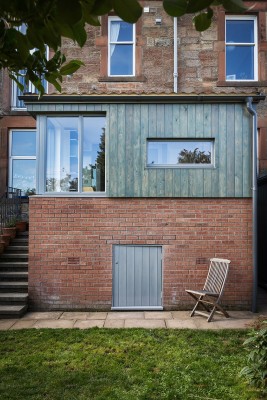 Willowbrae Road
The conservatory at the rear of this lower villa has been converted into a home office and a new workshop built in the garden. The original glazed uPVC conservatory was removed and replaced with new light-weight insulated timber-framed walls, clad in Siberian larch boarding stained light blue, and roofed in pre-insulated profiled metal panels, to form a snug modern office.
Windows are positioned to form carefully framed selective views while maintaining privacy.  There are two slot windows at the desk side of the office, fitting in between shelves. The side slot looks onto the newly built workshop's wild flower meadow roof, chosen for its mix of flowers, sedums, herbs and flowering perennials to give a colourful roof full of insect activity.
The office has been lined with shelving, painted with blocks of colours, and capped with a birch-faced plywood shelf that forms a continuous line following round the room.
A new timber workshop has been slotted into an under-used space in the garden, and is insulated with sheep's wool. Rainwater is harvested in a water butt, avoiding the need to form expensive new underground drainage.