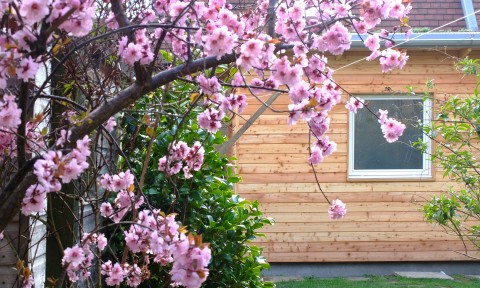 Craighill Gardens, Morningside
This house had previously been two terraced houses which were knocked together five years ago, when the family needed more room. Now, the existing conservatory, which had functioned as a play room, was leaky, cold and falling down.  The kitchen was too small for the enlarged house and had a draughty plastic roof cupola.  The clients decided to take down the conservatory, add a replacement extension and reconfigure the kitchen.
They wanted a flexible space, useable as a dining and garden room, and also for a study, play space and occasional guest room.  The plan was a simple rectangle with a large sliding door which could be pulled across to divide the space into two. This is positioned on the line of the original boundary between the terraced houses, so that if the property is ever re-divided, each house gains a room.
The aim was also to build an energy efficient, low carbon extension that would be visually unobtrusive to the neighbours. This resulted in the choice of a sedum living roof, good for wildlife.
The walls are timber frame, insulated with wood fibre boards and clad in Scots larch, all renewable and locally sourced materials. This construction is also vapour permeable, and avoids the need for plastic membranes in the wall build up.
The old kitchen rooflight was removed, and the roof was reformed, insulated and covered in a sedum blanket. A new, south facing rooflight was introduced which catches the sunlight and produces solar gain, transforming what was previously a north facing room.