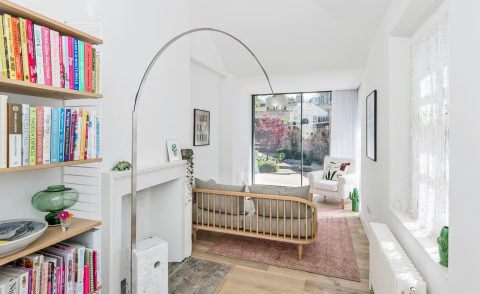 Georgian house, Trinity, Edinburgh
This elegant A-listed end terrace villa was built around 1817, and is considered to be part of the first 'suburban' development.  Although it has beautifully proportioned rooms and fine joinery, the setting of the house had been compromised in 1909 when the adjacent road was widened, taking a large slice off the rear garden and reducing it to a narrow tapering plot.  Furthermore, its privacy had become overlooked by a later Edwardian block of flats built on the opposite side of the road.  The rear rooms in the house were quite dark, and the garden had become no more than a concrete yard with a brick laundry building.
The aims were to reconnect the house with the re-landscaped garden and to improve the light levels in the rear rooms without compromising their privacy.
An opening was formed between the two rear rooms, whilst keeping their Georgian proportions and maintaining the feel of being two rooms.  Two light sources in a space always has a beneficial effect, improving the overall feeling of light and space.  The doorway between the rear outshot and the kitchen was also removed, creating a long vista from the kitchen down the length of the outshot to the back wall of the tapered garden and new bench.  The old kitchen doorway was infilled with glass, giving borrowed views and light into the beautiful Georgian stair hall.  The stone back wall of the outshot was removed entirely and extended a metre into the garden and replaced with very fine, minimal sliding doors, inviting you into the garden.
The new roof was designed with big oversailing eaves to help retain privacy, blocking the angled view from the tenement across the road while also controlling sunlight.  New timber floors have been installed throughout, tying the various spaces together.  Floor and wall finishes are all very light but not bland; the interest is created by subtle contrasting textures and patterns.