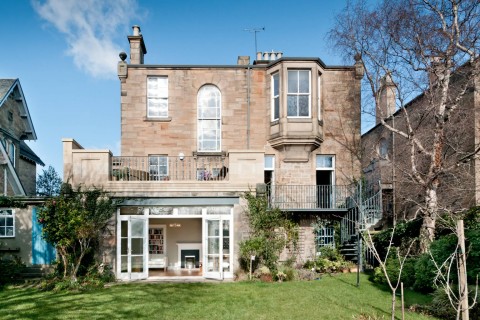 Mayfield Terrace, Newington
Mayfield Terrace is a substantial detached Victorian house on three floors, entered from the street at the middle floor level. There was no connection from this main living level to the beautiful large south-facing walled rear garden; and the basement level, originally servants' quarters, had lots of small cellular rooms. The clients' brief was to connect the living spaces better with the garden, and to open up the basement to link more to both the garden and the upper floor.
The existing basement stair was a straight narrow flight between two brick walls, arriving at an internal hallway.  The stair, together with one flanking wall, was removed and replaced with a new oak open-tread stair set slightly away from the existing wall.  Uplighters were set into the floor below to wash light up the wall to emphasise the gap and create a feeling of the stair floating. The removed wall was replaced with a glass screen.  Walls were also removed downstairs to create a big games room and family sitting room, with direct access to the garden.
At street floor level the wall between the north-facing kitchen and sunny rear room to the garden was removed to form one large kitchen dining and family room. Two existing windows in the south-facing room were made into French doors, allowing sunlight to flood deep into the space.  The French doors open onto a new delicately-patterned cast iron balcony from which a spiral stair leads directly to the garden, and also to a new terrace formed on top of the existing outshot basement room.
Finishes in the kitchen were deliberately chosen to maximise reflected light: kitchen units are white; the granite worktops sparkle; splashbacks are stainless steel, with spotlights over.