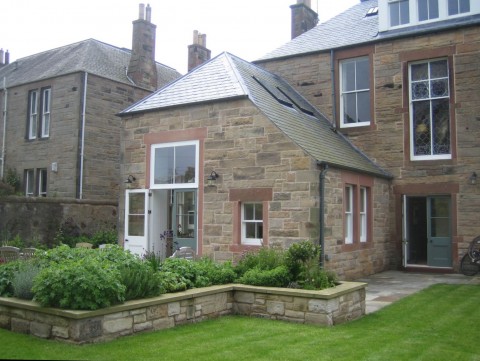 Midmar Gardens, Morningside
This Edwardian villa had been little altered apart from some electrical installations in the 1930s and a utility room in the 1960s. It has a typical 'tartan' plan with the stair and subsidiary rooms in the middle and the main rooms in the four corners. It also has a rear outshot housing the butler's pantry, scullery and coal store with a maid's room up a small stair above, typical of properties in this area, built at this time.
The main work involved creating a welcoming modern kitchen/dining space, amalgamating the existing kitchen and outshot rooms. The floor of the maid's room was removed to form a lofty light-filled space and the wall between kitchen and outshot was removed to form one big room. The floor area of the room was increased, by taking down the North outshot wall, salvaging the stone, and rebuilding the wall 2 metres further out, thus creating the asymmetrical roof pitch.
Bathrooms, heating and electrics were all modernised and a new flight of stairs was added over the existing main staircase to a new large studio formed within the attic space. An original rotating summer house with cedar shingles was completely refurbished and sits in the corner of the large re-landscaped garden.