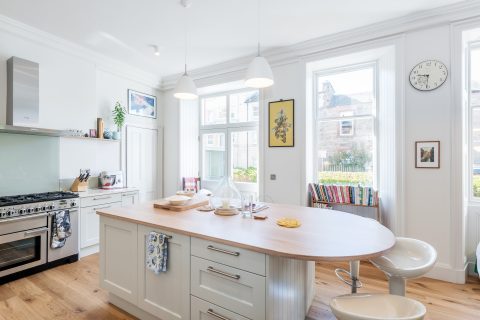 Morningside Terrace, Edinburgh
Morningside Terrace, Edinburgh
This busy family home is a Victorian end terrace, and is almost single aspect as it turns the corner of the road.  The brief was to increase storage and a feeling of space, and to open up the kitchen and dining room, to create one big family kitchen and dining space.
The walls between kitchen, dining room and pantry were completely removed resulting in a large, elegant, light filled room with three window openings.  One of these was changed into French doors opening on to a new terrace to the south facing garden.  A new kitchen with generous island unit was installed at one end of the new room.  The flexibility of the space was further increased by forming double pocket doors between dining room and sitting room, fitted with large purpose-made panelled pocket doors.  This gives the option of having either one large living space or a more cosy separate sitting room.
A new purpose made dresser was designed for the dining room, giving ample additional storage; new joinery was designed to tie in with the existing door and window joinery mouldings and proportions.
The entrance hall was also opened up by removing the panelling under the stairs to provide space for a new cloakroom and storage area for family paraphernalia with purpose made bench, drawers and shelving. New lighting helps to update the hall and give it a welcoming quality.
Upstairs storage was improved by introducing fitted bookshelves in the hall, and a floor to ceiling purpose-designed wardrobe in the master bedroom. The scale of this fitment is minimised because it is designed to look like a wall of the room, with the cornice running across the front and the wardrobe being painted wall colour.
An existing box room was converted into a shower room; a run of mirrored cabinets running the length of the room above the wash handbasin and WC duct reflects the light and makes the space feel twice the size, whilst providing ample storage.