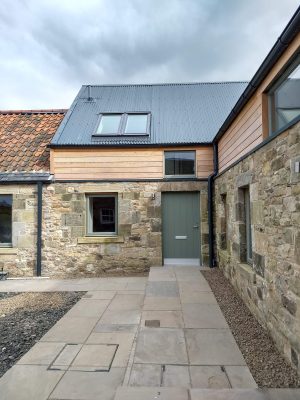 Overton Steading
Overton Steading is a complex of farm buildings, set out to form a courtyard. Parts of the steading were still inhabited. The section I was asked to work on, originally cow byres, was derelict and on the brink of losing its original pantiled roof. The outside walls of the steading were sunk into the ground, a common feature of steading buildings, making the building single aspect.  Although not listed, this is a typical Scottish traditional vernacular farm building with great charm and character.
My client's aim was to convert the old buildings into housing to let to local people.  The steading has been converted into 3 housing units, two two-storey with two bedrooms, and one one-storey with one bedroom.
The main buildings faced northwards into the courtyard. By raising the roof line by a half storey and putting the living spaces on the upper floor, they could look southwards, and also be at ground level. The new upper floors are lofty, light-filled open-plan spaces, also open to the roof structure, and broken up into different areas by the roof shape and built-in storage units.
To address the issue of the damp subterranean walls, we removed the made-up ground against the rear solid stone walls. We weren't sure if the stone would be dressed or even plumb, given that it had been built never to be seen. However, it was amazingly plumb, especially given that it was built from round whin field stone, with pinnings. The newly formed living spaces are each linked to their south facing gardens with a wide timber bridge, that doubles up as a terrace to sit out on.
All new walls and infill panels are clad in larch timber cladding left to weather naturally to a silver grey colour, a crisp contrast to the original stonework. Roofs are in either salvaged pantiles or profiled metal sheeting, following a utilitarian farmyard aesthetic.
Internally, the lower plan layouts are organised so that the bedrooms all use the existing original window and cartshed openings. Bathrooms and stair wells are pushed to the windowless back walls and the stair wells are positioned to scoop natural light down into the lower floor central hallways.
Internal finishes and colours are kept neutral but of a good quality, so the tenants can furnish to their own tastes.  Bedrooms have purpose-made loose shutters and roller modesty blinds.
The houses are heated using renewable technology in the form of mini ground source heat pump tucked into the stair cupboards, in turn heated by lengths of ground source pipework laid into the ground adjacent to the development. Insulation is compacted wood fibre, allowing the walls to breathe and moisture within walls to wick away naturally.  Old materials such as pantiles have been reused.