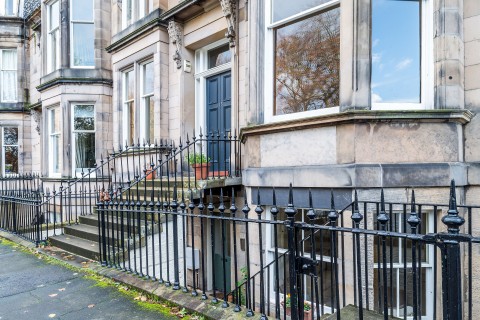 Douglas Crescent, Edinburgh
Originally one large terraced townhouse, this B listed property had been subdivided into flats in the 1960s. The current owners, who lived in the basement flat and also owned the ground floor flat, decided to reconnect them to form one generous family home.
The basement flat has a large sunny south-facing walled garden. The aims were to maintain easy access to this from the principal living spaces and to amalgamate and reconfigure the existing rooms over the two floors to form one logical house.  For example, the quirkily shaped former upstairs kitchen was converted into a fun child's bedroom with a new fitted box bed tucked under an area of low ceiling, and new fitted window seat and desk.
The house is entered from the north side, previously into a long corridor without windows. Large glazed double doors have now been formed at the south end of this corridor, which draw the eye towards the new kitchen/family room and on to the sunny garden beyond.
The three main rear rooms were merged into a large kitchen/family room with a dining room at the end. Double pocket doors give the option of a separate formal dining room if needed.  For everyday living, the three spaces are normally connected.
Two new family bathrooms were fitted, a dark internal basement bathroom, with apsed end curving round a freestanding bath, contrasting with a sunny upstairs bathroom.
Many of the rooms have new panelled joinery, either in the form of shutters and fitted cupboards or concealing duct work, which keeps the rooms clutter free while adding richness. The joinery was all painted in subtle Farrow and Ball off white colours, with the occasional splash of strong colour inside the cupboards. A new bespoke kitchen was designed, with colour matched glass splashbacks, ash worktops and a 'leather textured' marble topped island.